Bio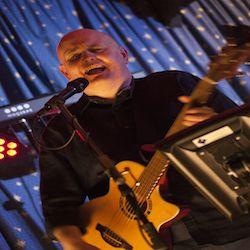 Steve Hutchinson
a great voice - with great songs!
London-born harmonic rocker Steve Hutchinson was a bit of a slow starter! Life begins at 40 they say but for Steve it was his 50th birthday that sparked his move into music-making.
His birthday bash led to him forming the UK's premier Moody Blues tribute band, Blue Onyx and meeting two of his Moodies heroes, Mike Pinder and Ray Thomas.  On hearing him sing, Ray Thomas tweeted that Steve had "a great voice" and invited Steve and the band to play at Ray and Mike's joint 70th birthday party!
Steve also began songwriting in earnest, scoring a semi-final placement in the UK Songwriting Contest with his first entry. He's since repeated the feat and also been a runner up twice in the US Song of the Year.
He's going to win one day!
With his third album 'A Different Sky' described by ace Masterer Pete Maher as "fantastic", Steve has just released his latest album 'Beat the Clock'. Produced with Jez Larder (The Damned, David Bowie, Amy McDonald) of Skyline Studios UK, Steve's unique blend of melodic and harmonic rock will touch you heart and lift your soul!
Join Steve's mailing list to find out more